Ford Mustang Mach-E has a mile of wires it didn't need. That's a big deal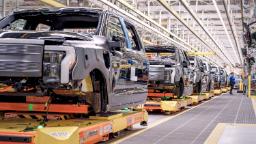 New York
CNN
 — 

Ford showed this week that it's not going to be as easy for traditional automakers to catch Tesla in the race to build the better electric vehicle, despite what Tesla's doubters think.
Ford CEO Jim Farley was rather blunt about the problems that Ford experienced as it rolled out its hot EV models, the Mustang Mach-E and the F-150 Lightning pickup. While both vehicles have a long list of waiting customers, Farley admitted that Ford encountered numerous problems with their production.
"We didn't know that our wiring harness for Mach-E was 1.6 kilometers longer than it needed to be. We didn't know it's 70 pounds heavier and that that's [cost an extra] $300 a battery," he said on a call with investors Thursday. "We didn't know that we underinvested in braking technology to save on the battery size."
Farley said these and other cost problems meant that Ford "left about $2 billion of profit on the table."
It's a sign that those who predicted that Tesla would soon lose its advantage due to increased competition in EV offerings from the established automakers were getting ahead of themselves.
Those automakers have the natural advantage of deep pockets, a large network of factories and sales channels, and more than century's worth of experience designing, building and selling cars. But that doesn't mean they can jump into making an EV like it's just an update on a gas-powered car or truck they've been making for decades.
"Tesla is sitting at the top of the EV mountain that every other automaker is trying to climb," said Dan Ives, tech analyst with Wedbush Securities. "It's easier said than done."
Not all the problems Ford reported are related to its attempt to shift to a line-up of EVs rather than traditional internal combustion engines.
As Farley conceded on the call, "Ford has been the #1 in recalls in the US for the last 2 years. Clearly, that's not acceptable."
Like virtually all global automakers, Ford is seeking to radically shift its lineup of vehicles, with a target of 40% pure EVs by 2030, compared to only 3% of US sales last year. It's doing so due to growing customer demand for EVs, to meet tougher environmental regulations around the globe and also to reduce labor costs – EVs require about 30% less labor to assemble than a traditional internal combustion engine. But the start of that transformation has clearly not gone as smoothly as Farley, or investors, want.
"While we're making progress, it's hard work," said Farley. "As with any transformation of this magnitude, certain parts are moving faster than I expected and other parts are taking longer."
Farley promised that Ford is learning from the problems it is encountering. He says that the lessons learned will make its next generation of EVs not only better, but more efficient to build. But he faced questions from analysts about when Ford will be able to get past these problems and have profit margins similar to Tesla, which regularly sells cars for over 25% more than they cost the company.
"Maybe a different way of asking this is, do you think you can sell a $40,000 electric crossover with a 20% gross margin?," asked Rod Lache of Wolfe Research.
The good news for traditional automakers is they have the financial wherewithal, both in cash on hand and ongoing profits, from their internal combustion engine sales. GM just reported record annual profits, excluding special items. Ford just missed doing so, despite the disappointing fourth quarter results.
Many analysts say they expect most of the EV market will eventually be in the hands of the traditional automakers, who are investing tens of billions in making the switch.
"I think the majority of legacy automakers will own a large portion of the market share in time," said Eric Schiffer, CEO of private equity firm The Patriarch Organization, which he said neither owns nor shorts Tesla shares. But Schiffer said the missteps from the established automakers, and the lead that Tesla has in the field, will give it a chance to grow to as many as 20 million vehicles a year in the future, far more than the total number of vehicles, gas or electric, that any automaker has ever sold.
"These are not missteps [by established automakers] that will condemn their future success," said Schiffer. "They just cost future resources and time."
Ford isn't the only traditional automaker having problems with its early EV offerings. In 2021, General Motors had to recall all of the 140,000 Chevrolet Bolts it had built, then its only US EV, due to a fire risk; sales were halted until the problem could be fixed. They resumed last year, but GM ended up with total US EV sales of just under 40,000.
Ford is now No. 2 in terms of US sales of EVs, but that's still way, way behind Tesla.
In 2022 Ford's US EV sales came to just under 62,000, roughly a tenth Tesla's US sales that year. Tesla does not break down how many of its 1.3 million EV sales worldwide were in the United States, but its recent annual filing say half of its revenue came from US sales last year. That means about 600,000 US Tesla sales for the year.