For Syrians devastated by civil war, the earthquake aftermath is 'a crisis in a crisis'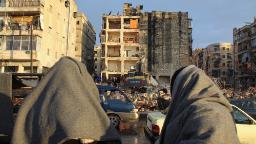 Abu Dhabi, UAE
CNN
 — 

For many of the Syrian victims of the devastating earthquake that hit Turkey and Syria on Monday, this is just the latest in a decade-long series of tragedies.
The magnitude 7.8 quake struck in the early hours, killing more than 5,000 people in the two countries and leaving thousands more injured. It was the strongest earthquake recorded in Turkey in 84 years.
In Syria, most of the casualties were in the northwest of the country, predominantly in the cities of Aleppo, Hama, Latakia and Tartus, according to the state news agency, SANA.
This region was already struggling to rebuild vital infrastructure heavily damaged by continual aerial bombardment during the country's civil war, which the United Nations estimates to have claimed 300,000 lives since 2011.
It's a "crisis in the crisis," El-Mostafa Benlamlih, UN resident and humanitarian coordinator in Syria, told CNN's Christina Macfarlane on Monday.
"The infrastructure has been crippled by the situation, the war and so on," he said. "Those cities are ghost cities… Many people are very scared. They don't want to go back to their houses. If we can call them houses in these cases. They are ruins sometimes."
Khalil Ashawi, a photojournalist based in the town of Jindiris in Syria's northwestern Allepo governorate, told CNN that he hadn't witnessed scenes as "disastrous" as Monday's in the ten years he spent covering the war there.
"In all the years I've covered war here, I've never seen anything like it," he said. "It's a disaster. Paramedics and fire fighters are trying to help but unfortunately there is too much for them to deal with. They can't handle it all."
His parents, who live in the Turkish city of Antakya, are missing, he said. That city too suffered significant damage.
Half of northwestern Syria's 4.6 million population have been forced out of their homes by the conflict, with 1.7 million now living in tents and refugee camps in the region, according to the United Nations' children's agency, UNICEF. Last year, the agency reported that 3.3 million Syrians in the area were food insecure.
Several parts of northwestern Syria, including Idlib, are still controlled by anti-government rebels.
During the early stages of the war, Aleppo and Idlib were geographically and economically vital to Syrian President Bashar Al Assad as hubs for commerce and trade. But from 2012 onward, Idlib, which has a border with Turkey and is currently held by Turkish-backed rebels, became the target of routine aerial bombardment from Syria's military alliance with Russia.
In 2019, the Syrian army launched a fresh offensive on the province, with aerial support from the Russian military, displacing around a million people from their homes. According to Human Rights Watch, more than a thousand civilians were estimated to have been killed during the 11-month military operation. A ceasefire was announced in March 2020 but bombardment has since resumed.
Many of the families that became victims of those bombing campaigns faced further misery on Monday.
"One of my colleagues, who I've worked with for more than five years, was killed about two years ago in Russian airstrikes. I found out today that his whole family, his wife and kids, all passed away today when their building collapsed," said Dr. Mostafa Edo, country director for the US-based NGO MedGlobal, who lives in Idlib.
He told CNN that hospitals in the city are overwhelmed and ill-equipped, lacking supplies like orthopedic plates to treat fractures. Hospitals are also suffering from power outages. Having previously relied on power from Turkey, they now resort to power generators for which fuel is in short supply.
"Survivors (are) sleeping on the streets in freezing cold," he said.
Many fear the effects of the earthquake will hit those living in rebel-held areas the hardest, as the regime has traditionally used isolation to cripple local infrastructure.
Volunteer rescue group the Syria Civil Defense, commonly known as the White Helmets, declared the earthquake area a disaster zone on Monday and called on the international community to assist in the rescue and relief effort and put pressure on the Syrian regime and Russia "to ensure there is no bombing of the affected areas."
Tanya Evans, the International Rescue Committee's Syria Country Director, described the earthquake in a statement as "yet another devastating blow to so many vulnerable populations already struggling after years of conflict."
She warned that thousands of people are exposed as temperatures plummet below zero. "Many in northwest Syria have been displaced up to 20 times," she said, "and with health facilities strained beyond capacity, even before this tragedy many did not have access to the health care they critically need."