Earthquake in Turkey and Syria leaves thousands dead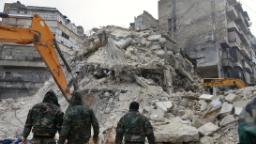 Poor weather and the scale of the disaster are creating challenges for aid teams, according to Turkish Health Minister Fahrettin Koca.
"The weather conditions and the scale of the disaster make it hard for our teams to reach the region," Koca said at a news conference, adding "our helicopters could not take off today due to weather conditions."   
Parts of southern Turkey and northern Syria have been hit by heavy snowstorms in recent days, with further sub-zero temperatures forecast.
All state institutions have been mobilized in the recovery effort, including the national police, municipal workers, the Disaster and Emergency Management Agency and the Gendarmerie, an armed general law enforcement organization part of the Interior Ministry.   
At least 2,256 emergency health personnel workers have so far reached earthquake-affected provinces, the health minister said.   
At least 602 ambulances and two ambulance planes have been dispatched from neighboring cities. Also, 187 teams part of Turkey's National Medical Rescue Team (UMKE) have also been dispatched. 
"We have moved teams from surrounding provinces to the region," the minister said.   
Iskenderun State Hospital, a hospital in the city of Iskenderun, collapsed due to the earthquake.
"We are trying to save the medical workers and patients there," Koca said. "These sorts of disasters can only be overcome with solidarity."