David Smith: Former guard at British embassy in Berlin jailed for spying for Russia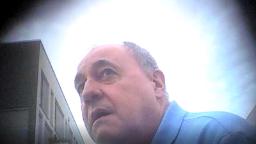 London
CNN
 — 

A former security guard at the British embassy in Berlin was sentenced to more than 13 years in prison at the Old Bailey in London on Friday after being caught spying for Russia.
Judge Mark Wall said 58-year-old David Ballantyne Smith had collected information from the British embassy "by stealth" between 2018 and 2021, some of which was clearly marked as "secret." He then sold the information to Russia as part of an "ongoing" relationship.
"I am sure that you committed these crimes intending to assist Russia… Your motive in assisting them was to damage British interests," the judge said, according to Reuters.
"You were paid by the Russians for your treachery."
"Of the clearly secret documents, one was a sensitive report addressed to the then Prime Minister of this country, Boris Johnson, sent to him by members of his cabinet. Some of the documents of a lower classification revealed the names, photographs, and personal details of embassy staff," the judge said.
Smith had pleaded guilty to eight charges under the Official Secrets Act by committing an act prejudicial to the safety or interests of the state in November 2021, PA reported.
According to the news agency, Smith sent two letters to Russian Embassy officials in 2020, with one of them revealing the identity of a diplomat who had worked in Russia. The second letter sent in November 2020 was traced back to Smith, prompting police to launch an investigation.
Smith was being paid by Russia in exchange for providing the secret information, the judge ruled, telling him that he had copied a "significant amount of material" during his time at the embassy.
"You were fully aware that you should not have copied any of these documents and equally aware were these documents to get into the wrong hands, they might harm British interests or pose a threat to those working at the British Embassy," the judge said.
Nick Price, from the Crown Prosecution Service, said Smith's actions were not just driven by money and greed, but that he had "expressed a strong dislike towards the UK and Germany and expressed sympathy with the Russian authorities."
"These beliefs may have caused further damage had Smith not been discovered and prosecuted."