China sanctions Reagan library, Hudson Institute for hosting Taiwan leader Tsai Ing-wen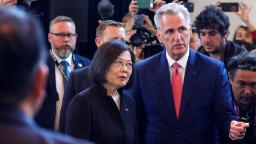 CNN
 — 

China has slapped sanctions on two American organizations that hosted Taiwan's President Tsai Ing-wen during her recent travel in the United States, which Beijing had fiercely condemned.
China's Ministry of Foreign Affairs announced Friday the Washington-headquartered think tank Hudson Institute and the Ronald Reagan Presidential Library in California would be banned from any cooperation, exchange or transaction with institutions and individuals in China.
Key leaders of the organizations would also be barred from visiting China, unable to transact or cooperate with organizations or individuals there, and have any assets in the country frozen, the statement said.
"The Hudson Institute and the Reagan Library have provided a platform and facilitated Tsai's separatist activities… which seriously undermines China's sovereignty and territorial integrity," the ministry said, using a term often used to criticize the actions of Taiwan's leader.
The Ronald Reagan Presidential Library was the site of a meeting between Tsai and US House Speaker Kevin McCarthy on Wednesday – the first time a Taiwan president had met a US Speaker on American soil.
And last week, the Hudson Institute presented a Global Leadership Award to Tsai in New York City.
Both occurred during stopovers in the course of the Taiwan President's 10-day international tour, which included official visits to Central America.
CNN has reached out for comment to the Hudson Institute and the Ronald Reagan Presidential Library. It's unclear if either organization or its leaders have assets or cooperation in China that would be impacted.
China had repeatedly said it would take "resolute and strong measures" in response to Tsai's meeting with McCarthy.
China's Communist Party claims the self-governing democracy of Taiwan as its own despite never having controlled it, and has vowed to take the island, by force if necessary.
China also imposed sanctions on two Taiwanese organizations, The Prospect Foundation and Council of Asian Liberals and Democrats, on Friday, according to the Taiwan Affairs Office.
A spokesperson accused the groups of promoting Taiwan independence and said they could not cooperate with mainland organizations and individuals. Their directors were also barred from entering the mainland.
Hsiao Bi-khim, Taiwan representative to the US, was also hit with sanctions on Friday, according to Chinese state media. Hsiao was previously sanctioned by China last August, following a visit from then-US House Speaker Nancy Pelosi to the island. On her Twitter account on Friday, Hsiao reacted to the sanctions saying, "Wow, the PRC just sanctions me again, for the second time."
Taiwan's foreign ministry responded later Friday calling China's decision to impose new sanctions over Tsai's meeting with McCarthy "irrational and absurd."
It was Taiwan's "fundamental right" to conduct diplomatic activities overseas, and "coercion and suppression" from Beijing would only boost its "insistence on freedom and democracy," the statement said.
Beijing's overall response to the latest meeting has appeared muted so far compared with its actions following Pelosi's visit.
Then, Beijing launched extensive military drills around the island following the Speaker's departure and suspended several lines of communication with Washington.
This time there has been little clear military response toward the island, which sees regular incursions into its air defense identification zone and patrols in surrounding waters by the Chinese military.
Ahead of the meeting between Tsai and McCarthy, Taiwan's Defense Ministry said it had tracked a Chinese aircraft carrier group, led by the carrier Shandong, passing through waters southeast of Taiwan for training in the Western Pacific.
China's retaliation against the US organizations comes at a tense time between the two powers, which have struggled to stabilize their relationship amid friction over a range of issues.
Among those is bolstered American support of Taiwan in the face of increased military, economic and diplomatic pressure on the island democracy from Beijing.
The US maintains an unofficial relationship with Taiwan and Tsai's transit in the country was therefore not an official visit in order to keep Washington aligned with its longstanding "One China" policy.
Under the policy, the US acknowledges China's position that Taiwan is part of China, but has never officially recognized Beijing's claim to the island of 23 million.
Tsai is expected to return to Taiwan Friday.