China Renaissance suspends trading, delays results after founder Bao Fan goes missing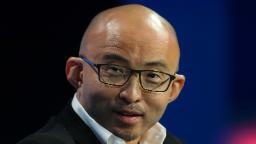 Hong Kong
CNN
 — 

China Renaissance, a top dealmaker in the country's tech industry, said it would suspend trading of its shares and delay the release of its annual results because it still can't get in touch with its founder.
Bao Fan, 52, started the boutique investment bank in 2005 and has been unreachable since the middle of February, according to the company. Shares in China Renaissance have plunged since Bao went missing, at one point dropping as much as 50%.
China Renaissance said in late February that it had learned Bao was "cooperating in an investigation" being carried out by certain authorities in the country. It gave no other details.
Chinese media have reported Bao might be assisting in an investigation related to a former executive at China Renaissance.
In a filing on Sunday, China Renaissance said auditors couldn't complete their work or sign off on their report because of Bao's absence. The board was also unable to give an estimate about when it would be able to approve its audited results for 2022 or dispatch its annual report by an April 30 deadline as required by Hong Kong's listing rules.
Trading in the company's shares was suspended from Monday as a result.
Bao is known as a veteran dealmaker who works closely with top technology companies in China. He helped broker the 2015 merger between two of the country's leading food delivery services, Meituan and Dianping. Today, the combined company's "super app" platform is ubiquitous in China.
His team has also invested in US-listed Chinese electric vehicle makers Nio

(NIO) and Li Auto and helped Chinese internet giants Baidu

(BIDU) and JD.com

(JD) complete their secondary listings in Hong Kong.
Over the weekend, China's top anti-graft watchdog launched an investigation into Liu Liange, former party secretary and chairman of Bank of China, according to a statement by the Central Commission for Discipline Inspection and the State Supervision Commission. The bank is state-owned and one of the country's four biggest lenders.
Liu is suspected of "serious violations of discipline and law," the statement said. He is among the most senior financial executives targeted in a broader financial crackdown by President Xi Jinping.
In January, Wang Bin, former party chief and chairman of China Life Insurance, was charged by national-level prosecutors with taking bribes and hiding overseas savings.
— Michelle Toh contributed reporting.