Cardinal George Pell dies aged 81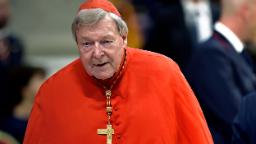 Rome
CNN
 — 

Cardinal George Pell, the most senior Catholic official to be convicted of child sex abuse before his 2020 acquittal, has died, according to his secretary. He was 81.
Father Joseph Hamilton confirmed Pell's death on Tuesday evening local time after being admitted to a Rome hospital for hip replacement surgery. Hamilton said while the operation was successful, Pell subsequently suffered a cardiac arrest.
Born in the regional city of Ballarat, Australia, on June 8, 1941, Pell rose through the ranks of the Roman Catholic Church to become Vatican treasurer, considered by many to be the third most senior position within the church.
He served in that role from 2014 to 2019 in charge of Pope Francis' financial reforms, which largely stalled when he was called back to Australia to face allegations of historical sex abuse.
He was convicted of those charges in 2018 and served 13 months in prison before Australia's High Court acquitted him in April 2020. Pell strenuously denied the charges, which he dismissed in a 2016 police interview as a "product of fantasy."
In its two-page summary of the ruling, the High Court said that the jury "ought to have entertained a doubt as to the applicant's guilt" and ordered that the convictions be quashed.
In a statement, the Archbishop of Sydney Anthony Fisher expressed sadness at Pell's death. "This news comes as a great shock to all of us. Please pray for the repose of the soul of Cardinal Pell, for comfort and consolation for his family and for all of those who loved him and are grieving him at this time," he said in a Facebook post.