Canada will send naval vessels to Haiti, but stops short of military intervention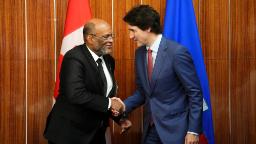 Ottawa
CNN
 — 

Canada will deploy Royal Canadian Navy vessels off the coast of Haiti in the coming weeks, Canadian Prime Minister Justin Trudeau said Thursday, amid widespread insecurity and gang violence in the country.
The vessels will conduct surveillance, gather intelligence and maintain a maritime presence off the coast of Haiti in the coming weeks, Trudeau said from Nassau, Bahamas, during a meeting of Caribbean leaders on Thursday.
"We need to work on long lasting solutions that will restore order and security, allow for essential aid to flow to those who urgently need it, and create the conditions for free and fair elections so that the Haitian people can live in a stable and democratic society," he added.
While Trudeau said it was important to confront the "severity" of the situation, Canada stopped short of pledging any type of military presence on the ground.
The Caribbean nation has been thrown into chaos over the past year by relentless anti-government protests, rampant kidnappings and a recent resurgence of deadly cholera.
Large swathes of capital city Port-au-Prince are run by organized criminal groups, and last October, Haiti's government and United Nations Secretary-General Antonio Guterres urged the international community to consider deploying forces to Haiti to address growing humanitarian and security crises in the country.
Earlier in February, Canada's government reiterated that it would continue to contribute aid to Haiti and in recent weeks has deployed a Royal Canadian Air Force surveillance aircraft to the Caribbean nation to support "efforts to disrupt the activities of gangs in Haiti and demonstrate Canada's commitment to the Haitian people."
Canada said it was committed to supporting the Haitian National Police but has so far ruled out sending any kind of armed force to the country, with Trudeau tweeting in recent days that he would be supporting "Haitian-led" solutions.