Burkina Faso: France recalls ambassador and will withdraw military forces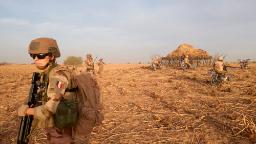 CNN
 — 

France will withdraw its military forces from Burkina Faso within a month, the French Ministry of Foreign Affairs told CNN on Wednesday.
Following a formal request from the Burkina Faso government to do so, the French military mission will end a month after receipt of that written demand, the ministry said.
Since 2018, the French and Burkina Faso governments have had an agreement allowing the presence of French troops on Burkinabe soil. French troops have been deployed in West Africa since 2013 to fight jihadist groups in the Sahel.
This withdrawal is the latest step back for France's military footprint in the Sahel region, after the 2022 withdrawal of French forces from Mali following a military coup in the country and the eventual breakdown in relations with the Malian government.
The French Armed Forces declined to comment on the composition of the mission in Burkina Faso, adding that it also did not have a comment on how the withdrawal will affect French operations in the Sahel region.
The French foreign ministry said on Thursday it was recalling its ambassador to Burkina Faso, citing "the context of recent developments", a day after Paris announced it would withdraw its troops from the African country.
"We have decided to recall our ambassador in Paris, to conduct consultations on the state and perspectives of our bilateral cooperation", the ministry said in a statement.
Protests by opponents of the French military presence have surged in Burkina, partly linked to perceptions that France has not done enough to tackle an Islamist insurgency that has spread in recent years from neighboring Mali.