Ben Gvir: EU cancels Israel reception to avoid far-right minister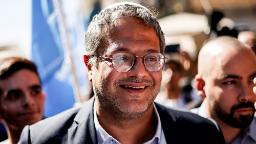 Jerusalem
CNN
 — 

The European Union canceled a diplomatic reception to celebrate Europe Day in Tel Aviv due to take place on Tuesday to avoid giving a platform to Israel's far-right National Security Minister Itamar Ben Gvir, the EU delegation to Israel said Monday.
"Regrettably, this year we have decided to cancel the diplomatic reception, as we do not want to offer a platform to someone whose views contradict the values the EU stands for," the EU delegation to Israel said on Twitter.
"We don't endorse the political views of Mr. Ben Gvir," EU foreign policy spokesman Peter Stano had said earlier on Monday. "We don't endorse the political views of his party because they are in stark contradiction with all the values the European Union stands for and believes in."
Ben Gvir – the leader of the nationalist Jewish Power party, who has been convicted of inciting anti-Arab racism — fired back that the EU was practicing "undiplomatic gagging."
"It is a shame that the European Union, which claims to represent the values ​​of democracy and multiculturalism, practices undiplomatic gagging," Ben Gvir said in a statement. "It is an honor and a privilege for me to represent the Israeli government, the heroic IDF soldiers and the people of Israel in every forum, friends know how to voice criticism and true friends also know how to hear such."
The decision for the EU to call off the reception went to the top of the bloc's foreign policy leadership, an EU diplomat told CNN Monday.
EU foreign policy chief Josep Borrell "was directly involved," the diplomat said, asking not to be named discussing internal EU deliberations.
The diplomat said the EU was mystified by the Israeli government decision to send Ben Gvir to the reception.
"Nobody understands why – who had this genius idea, which is not doing good to anybody," the diplomat said.
Israeli government officials told CNN that there is a rotation of government ministers who attend diplomatic events, and that it happened to be Ben Gvir's turn.