Anti-mafia raids in Europe: Over 100 arrested in Europe raids targeting Calabrian mafia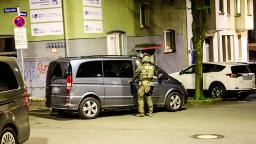 CNN
 — 

European police carried out raids in multiple European countries on early Wednesday, as part of a probe into the Calabrian Mafia, according to the Belgian federal prosecutor.
"This morning, a large-scale European operation took place in several countries. It concerns a case opened by the Belgian Federal Prosecutor's Office, in collaboration with the Limburg Prosecutor's Office, the Federal Judicial Police, Eurojust, Europol and various countries, in particular Italy," the Belgian Federal Prosecutor's Office said in a statement.
Italian authorities arrested 108 people in Italy as part of a four-pronged investigation into charges of "mafia-type association," the Italian Carabinieri said in a statement Wednesday.
The arrests were carried out by the Carabinieri Ros and the Provincial Command of Reggio Calabria in Italy in conjunction with raids carried out in Germany, Belgium, France, Portugal, Romania and Spain, the Carabinieri statement said.
In a joint release Wednesday, public prosecutors from German cities said, "forces from Bavaria, North Rhine-Westphalia, Rhineland-Palatinate and Saarland" have been involved in the "large-scale operation," which took place across Europe on Wednesday.
In Belgium, more than 20 raids were carried out as part of the operation, the statement from the federal prosecutor said.