Analysis: Ukraine's new tanks from NATO allies won't be the instant game-changer some expect


CNN
 — 

Those hoping that main battle tanks donated by NATO allies to Ukraine will have an immediate impact in its war with Russia may have to adjust their expectations.
After confirming it will receive deliveries of the American M-1 Abrams, German Leopards and British Challengers, Kyiv is now confronted with the logistical and operational realities of incorporating an assortment of vastly different and complex heavy armor into effective fighting units.
But first, the Ukrainians must factor in the time line for delivery.
Even the most optimistic estimates say it will take months for the tanks to enter the battlefield in numbers to make a big difference, while in the case of Abrams tanks it could be more than a year before Ukraine is able to deploy them.
Deputy Pentagon press secretary Sabrina Singh said Thursday that the United States would provide Ukraine with an advanced version of the Abrams, the M1A2.
The US does not "have these tanks available in excess in our US stocks," she said, adding it will take "months to transfer" them to Ukraine.
Many analysts say it would make things easier for Ukraine to stick with one kind of tank, and that's what makes Germany's decision to allow Leopards into the fight so important.
Modern main battle tanks are complicated pieces of weaponry. Looking formidable and rugged on the outside, much of their effectiveness on the battlefield comes down to sophisticated electronic and computer systems at their core. Those systems find targets and train the tank's main gun on them.
Maintaining the tanks, repairing them, and supplying the parts necessary requires detailed training all the way from the crews in the vehicles to the logistics trail supporting them, hundreds or maybe thousands of miles from the front lines in eastern Ukraine.
"The tank that they can operate and maintain most effectively will be the right option, which probably means one available in large numbers with less complex systems, which runs on the most accessible fuels and uses readily available ammunition – and that likely means the Leopard 2," said Blake Herzinger, a nonresident fellow at the American Enterprise Institute.
Nicholas Drummond, a defense industry analyst specializing in land warfare and a former British Army officer, concurs.
"I would say the ability to train Ukrainian soldiers to support any tanks they are given is almost more important than the type of tank they use," he said.
Drummond said the German tanks were designed to be maintained by conscript armies, like Ukraine's, giving the Leopards an advantage over the Abrams and Challengers, which are fielded by volunteer professional forces in the US and British militaries. Because conscripts have less time to learn during their period in uniform, a simpler design like the Leopard helps reduce the chances of maintenance mistakes, he said.
Not getting every little bit of that maintenance right could lead to a battlefield disaster.
Mark Hertling, a CNN military analyst who once commanded the US Army's 1st Armored Division, knows the Abrams and its capabilities and vulnerabilities well.
Keeping the tanks battle-ready means not only training their crews, but also every person in the supply chain that supports them, he said on Twitter.
"Those saying 'just give them the damned tanks!' have likely never seen the choreography to making this work on the battlefield," Hertling said. "In combat get just a few things wrong and it causes disaster and failure. Lethal tanks turn into pillboxes that don't move or shoot," he said.
Because the Abrams is American-made, it has "a very long logistics tail stretching back to the US," said Drew Thompson, visiting senior research fellow at the Lee Kuan Yew School of Public Policy at the National University of Singapore. Key components that wear out or are damaged in battle would need to be replaced with US parts, which would have to be sent to a repair depot in Ukraine or possibly Poland, which is in the process of acquiring its own fleet of Abrams.
Thompson said the Pentagon is good at solving difficult logistical issues, "but the risk is high to both the US and Ukraine."
Think of the propaganda victory for Russian President Vladimir Putin if pictures emerge of disabled American tanks on a Ukrainian battlefield.
"Being able to support Leopards from a European logistics base is definitely preferable," Thompson said.
And that speaks to the number of Leopards available. According to Drummond, who is an adviser to the manufacturer of the German tanks, more than 4,000 are in service. "Spare parts are readily available from multiple sources," he said.
The diversity of sources for Leopards was highlighted Thursday when Canada said it would send four of the German-made tanks to Ukraine, but perhaps just importantly, also provide training and technical support.
Other NATO countries with Leopards in their arsenals include Poland, Greece, Spain, Turkey, Hungary, Denmark, Portgual, Norway, Slovakia and the Czech Republic. NATO applicants Sweden and Finland also have substantial numbers of Leopards.
Drummond also gives historical perspective on why numbers are so important from World War II, when US-made Sherman tanks faced off with German Tiger tanks.
"The Tiger was quantifiably better than Sherman in many areas. But Sherman was good enough," he said.
"What really gave Sherman an edge was that it was designed to be easy to produce. With 49,234 Shermans made versus 1,347 Tigers, quantity outranked quality. Today supportability trumps sheer firepower, protection and mobility," Drummond said.
Operating new, often mismatched types of equipment is something the Ukrainians have proven themselves adept at in the war, putting together old Soviet-era tank stocks and those captured from Russia into what so far has been an effective force.
"As far as 12 of one model, 30 of another and 100 of a third … that's another Wednesday morning in the Ukrainian Army," said Trent Telenko, a former quality control auditor for the US' Defense Contract Management Agency.
"Ukraine is throwing smart people at their maintenance issues along with both true mechanized logistics and modern warehousing information technology to help keep track of parts with modern 2D and 3D bar coding on their spares packaging," he said.
But Germany's pledge of 14 Leopard tanks is just a fraction of the 300 Ukraine says it needs. Germany's main governing party said in a tweet Wednesday that more would come from Kyiv's other partners to put two battalions of Leopards – around 80 tanks in total – in Ukrainian hands.
NATO ally Poland, which spearheaded the push to get Germany to allow the German-made equipment to be provided to Ukraine, is a likely donor of Leopards.
Officials say Ukrainian crews could begin training on the tanks they will eventually receive in short order. But seeing them in combat is likely months off.
"Ukrainian military personnel need to be trained – the Leopard are a very advanced equipment, technologically, and so that will take a few weeks, just the training process," Portuguese Foreign Minister João Gomes Cravinho told broadcaster SIC on Wednesday.
"After that there are logistical hurdles that need to be addressed with the allies, so it'll take two or three months."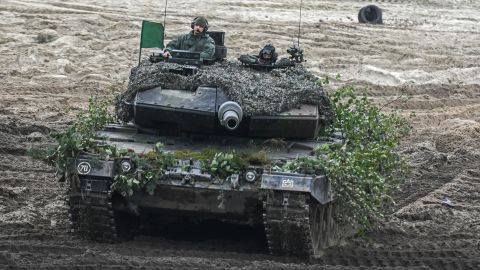 While Ukraine waits for the modern tanks, Russia is unlikely to stand still.
The Institute for the Study of War (ISW) on Thursday reported that Moscow may be gearing up for an offensive in the Luhansk region of eastern Ukraine, which will see an emphasis on conventional Russian forces rather than the contracted Wagner Group troops that have been operating there.
But knowing that new tanks are coming will give Ukrainian commanders more freedom in deploying their current stocks to counter any Russian offensive, ISW said.
Hertling, the CNN military analyst, also said the Leopard tanks might be on the battlefield in about three months. The Abrams could take eight or more, he wrote on Twitter.
"But that's lightning speed to deliver (and) prepare a force not trained on these vehicles," Hertling said.
And even though the Leopards and Abrams may take some time to get to the battlefield, experts say Ukraine's military will need them for years.
"We are watching the Ukrainian military modernize and westernize at the same time while fighting an existential war," said Herzinger, of the American Enterprise Institute.
"So decisions are being made as to what kind of tanks they'll want in the future too, which comes with a lot of long-term choices regarding security partners," he said.
Ukraine may not be joining NATO anytime soon, but it will be armed like a NATO country.
Analysts note the impressive arsenal of NATO-compatiable equipment already on the battlefield or in the pipeline for Ukraine – infantry fighting vehicles from the US, the United Kingdom and Germany, HIMARS rocket systems and other artillery, and Patriot air defense batteries among those systems.
"This will assure not only the quantity but also the quality of the equipment available to them and allow Ukraine to be incorporated more efficiently into NATO and other western logistics and maintenance systems," Frank Ledwidge, a military expert at the University of Portsmouth, wrote on The Conversation this month.
"Ukraine will not only have the capability to defeat the increasingly outfought Russian army this year and next – but its armed forces will be a deterrent to any further attack by a rearmed, revanchist Russia in the future.
"It will ensure Ukraine's – and therefore Europe's – security well into the next decade."