Abby Choi: Three arrested after model's dismembered body found in Hong Kong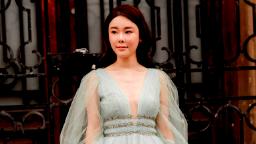 Hong Kong
CNN
 — 

Police in Hong Kong said Saturday they have arrested three people following the discovery of the dismembered body of model and influencer Abby Choi.
Parts of the 28-year-old's body, along with a meat slicer, an electric saw, and some clothing were found in a rental unit in Hong Kong's northern Tai Po district on Friday afternoon, police said in a press release.
Police said three people, Choi's 31-year-old ex-husband and his parents, had been arrested and detained for questioning.
As a model, Choi had enjoyed international exposure and was photographed at the Elie Saab Spring Summer 2023 Haute Couture show in Paris, France, as recently as last month.
The police received a missing person's report on Wednesday for Choi. She had not been seen since the day before.
The investigation, including the cause of death, continues, police said.