A defiant Taiwanese President Tsai Ing-wen departs for New York to start Central American trip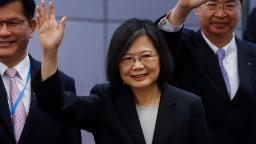 Hong Kong
CNN
 — 

Taiwan has every right to "connect with the world," its President Tsai Ing-wen declared Wednesday as she embarked on a diplomatic mission to Central America, which will include transit in the United States – and has already been condemned by China.
Tsai departed Taipei on Wednesday for a 10-day trip in which she will make stopovers in New York City and Los Angeles on either side of official visits to Guatemala and Belize.
"External pressure won't stop our determination from moving toward international society," Tsai told reporters before taking off. "We're calm, confident, uncompromising and unprovocative."
The trip has attracted heightened attention following reports that Tsai would meet US House Speaker Kevin McCarthy during one of her unofficial stopovers in the US.
Taiwan has yet to confirm such a meeting.
McCarthy this month said he would meet Tsai while she was in the US, though he gave no date.
China hit out against the trip ahead of Tsai's departure, pledging on Wednesday to "resolutely fight back" if Tsai met McCarthy – a move Beijing would view as a violation of its sovereignty.
China's ruling Communist Party claims the self-governing island democracy as its own despite never having controlled it and has not ruled out using force to one day take Taiwan.
Washington believes there is "absolutely no reason" for Beijing to use Tsai's transit as an excuse to carry out "aggressive or coercive activities" aimed at Taiwan, a US senior administration official told reporters, though privately there are concerns among some US officials about how Beijing may react.
Beijing fired multiple missiles and launched extensive military patrols around the island following a visit by then-US House Speaker Nancy Pelosi last August – the first from a lawmaker of her rank in 25 years.
The visit also placed significant strain on US-China bilateral relations, even though legislators make their itineraries and decisions about foreign activities independently from the US executive branch.
Tsai's trip also comes at a sensitive time in already strained US-China relations.
An expected visit from US Secretary of State Antony Blinken to Beijing last month – part of a bid from both sides to stabilize the deteriorating relationship – was scrapped after a suspected Chinese surveillance balloon was shot down over the US.
US officials have engaged in multiple communications with Chinese officials in Washington and Beijing over the past several weeks to provide them with information about the past US transits of Taiwanese presidents, a senior administration official told reporters last week.
The US official said that China's responses indicated it didn't plan to treat this transit as they had treated those in the past.
"In all previous transits President Tsai met with members of Congress as well as state and local officials. She had public appearances, and she attended engagements with the Taiwanese diaspora," the official said. "As in past years, President Tsai will be welcomed by the Chair of the Board of Trustees of the American Institute (AIT) in Taiwan during this transit."
AIT is the organization that carries out unofficial US relations with Taiwan. Tsai has transited the US six times while she has been president, according to US officials.
Because of the unofficial relationship the US has with Taiwan, Tsai's stop in the US is not characterized as an official visit in order to keep the US within the longstanding "One China" policy.
Under the "One China" policy, the US acknowledges China's position that Taiwan is part of China, but has never officially recognized Beijing's claim to the island of 23 million.
On Wednesday a spokesperson of China's Taiwan Affairs Office, Zhu Fenglian, accused Taiwanese authorities of using such visits to "seek support from anti-China forces in the United States."
A meeting between Tsai and McCarthy would also be "another provocation" that "undermines peace and stability across the Taiwan Strait."
"We firmly oppose this and will take measures to resolutely fight back," Zhu said.
Following her New York City stopover, Tsai is expected to visit Guatemala on April 1 and Belize on April 3. She will transit in Los Angeles before she returns to Taiwan on April 7, according to the Taiwanese Presidential Office.
Tsai's trip also comes as the island democracy seeks to shore up its diplomatic partnerships, which have dwindled in number in recent years.
Those received another blow on Saturday when Honduras formally established diplomatic ties with China and severed them with Taiwan. Beijing does not have diplomatic relations with countries that recognize Taipei.
Only 13 countries now have official relations with Taiwan – with several countries in Central America and the Pacific having switched recognition to China in recent years.
However, Taiwan has de-facto, but non-official, diplomatic relations with many Western nations including the United States.
During her trip to Taipei last year, Pelosi, a California Democrat, said the visit was intended to make it "unequivocally clear" the US would "not abandon" the democratically governed island.
Under leader Xi Jinping, China has ramped up military, diplomatic and economic pressure on the island, including enticing Taipei's allies to switch their allegiance.
Those pressures are expected only to heighten in coming months as Taiwan's next presidential election approaches in January.
Tsai's diplomatic tour also coincides with the first visit from a current or former Taiwanese leader to the mainland since the end of the Chinese Civil War in 1949.
Former President Ma Ying-jeou, who served as Taiwan's president between 2008 and 2016, is touring mainland China in what is ostensibly a private trip but that comes at a time of deepening tensions over the future of Taiwan.
During his time as leader, Ma encouraged stronger economic ties with China but kept Beijing's push for reunification at bay.
In comments in the eastern city of Nanjing at the Sun Yat-sen Mausoleum on Tuesday, Ma said that people on both sides of the Taiwan Strait were "ethnic Chinese" and shared the same ancestors.