Wreckage of deadly migrant boat found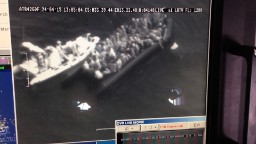 Story highlights
A migrant boat capsized last month, killing hundreds
The Italian Navy says it found the wreckage
There are corpses visible in the first and second deck

Rome
CNN
 — 

The Italian Navy says it has found the underwater wreckage of a boat – overloaded with migrants – that capsized off the coast of Libya, killing hundreds.
The boat that sank on April 19 is part of a larger crisis that Europe is facing. Thousands of migrants from war-torn parts of the Middle East and Africa set sail toward Italy in hopes of gaining a foothold into the rest of the EU.
The Italian Navy estimates 800 people died when the boat capsized.
Twenty-eight people were rescued from the doomed ship, and told investigators of the cramped conditions on the boat. Only 24 bodies were recovered in the area where the boat sank.
Among those who survived are the boat's suspected pilot and his assistant. Both were arrested.
Italian prosecutors ordered an investigation into why the boat sank, and the nation's Navy confirmed on Friday that it had found the wreckage in the Mediterranean Sea, about 85 miles north of the Libyan coast, at a depth of 375 meters.
The Navy recorded the wreckage on video, and the prosecutor's office confirmed it was the boat that sank on April 19.
Many corpses could be seen in the first and second decks of the shipwreck, the Navy said.
The boat's pilot may have caused the migrant ship to tip over because of a navigation error, or the boat simply may have been overcrowded, according to an earlier statement from the prosecutor's office.
A third theory is that the King Jacob, a cargo ship that came to the migrant boat's aid, caused it to capsize either by touching it or producing a big wave that tipped it over. A spokeswoman for the United Nations refugee agency offered this possibility after interviews with survivors.
The prosecutor's office has said the King Jacob had nothing to do with the sinking of the migrant ship, but it noted on Friday that the wreckage showed damage to the boat's bow and left side.