Why the Israeli-Palestinian conflict is escalating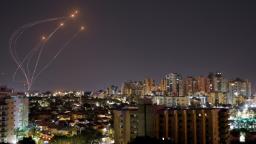 Editor's Note: A version of this story first appeared in CNN's Meanwhile in the Middle East newsletter, a three-times-a-week look inside the region's biggest stories. Sign up here.

Abu Dhabi, UAE
CNN
 — 

Israel said it struck targets belonging to the Palestinian militant group Hamas in southern Lebanon and Gaza early Friday, hours after dozens of rockets were fired from southern Lebanon into Israeli territory, which the Israeli military blamed on Palestinian militants.
The number of rockets fired from Lebanon was the highest since 2006, but there were no reported deaths from the strikes in either Gaza, Israel or Lebanon.
Damage on all sides from the strikes was restricted to buildings, cars and agricultural sites.
The overnight exchange of fire came after Israeli police conducted violent raids of Jerusalem's al-Aqsa mosque twice in less than 24-hours starting on Wednesday.
The situation on the ground however remains tense. On Friday, a shooting in the occupied West Bank targeting a group of settlers as they drove killed two sisters and critically injured their mother in what Israeli police described it as a "terror attack." Hamas and Islamic Jihad praised what they called a "heroic operation." This year's violence takes place at sensitive time for both Israelis and Palestinians. Muslims have been marking the holy month of Ramadan, while Jews are celebrating Passover.
The violence also took place as Israel grapples with the aftermath of mass protests over a controversial judicial overhaul, which only slightly waned last week after a pause was announced, leaving the country deeply divided.
Here's how the situation developed, and why this year's violence is particularly a cause for concern:
The al-Aqsa mosque compound, known to Muslims as Al Haram Al Sharif, is the third holiest place in Islam, and is the holiest site in Judaism, known to Jews as Temple Mount.
Al-Aqsa mosque and its surrounding complex are located in the Old City, in the eastern sector of Jerusalem, which most of the international community considers to be under Israeli occupation. Israel captured East Jerusalem in 1967, and considers both East and West Jerusalem part of its "eternal capital."
A "status quo" agreement between Israel and Jordan governs the Muslim and Christian holy sites there. But the specifics of the agreement are constantly changing, says Mairav Zonszein, a senior analyst on Israel-Palestine at the International Crisis Group, a Brussels-based think tank.
Israeli police raids of al-Aqsa mosque are considered by Muslims as a major provocation, and have in the past led to violent escalation. The 2021 war between Hamas and Israel was partly triggered by an Israeli raid on al-Aqsa mosque.
Under the status quo agreement, Jordan is the custodian of the compound. But Israeli police control East Jerusalem, and Zonszein said Israeli raids of the compound have increased since the Second Palestinian Intifada, or uprising, in the year 2000.
Francesca Albanese, the UN Special Rapporteur on Occupied Palestinian Territories, told CNN that Israeli police have been raiding the area for many years, particularly during Ramadan, with varying frequency and intensity.
What's different this time, she says, is that it occurs during a climate of record levels of violence between Israelis and Palestinians, and inflammatory rhetoric towards Palestinians by some of the Israeli government's far-right ministers.
Calls for Muslims to stay in the mosque overnight increased after Jewish extremist groups had encouraged Jews to go up to the compound and sacrifice goats as part of ancient Passover ritual that is no longer practiced today.
Israeli police said it stormed al-Aqsa Wednesday after "hundreds of rioters and mosque desecrators (had) barricaded themselves" inside, adding that once they entered, stones and fireworks were thrown at them by "agitators."
"Their intention was to create a violent riot particularly against the Temple Mount visitors in the morning hours," a police spokesperson said on Thursday, referring to non-Muslims, who are allowed to visit but not perform prayers under the status-quo agreement. Some members of the current Israeli government have campaigned to allow Jewish prayer there.
Videos shared on social media form early on Wednesday showed Israeli police beating screaming Muslim worshipers with batons. Eyewitnesses told CNN the police also broke windows, smashed doors and fired stun grenades and rubber bullets.
The raid caused outrage in Arab states and was criticized by Israel's allies, including the United States.
While Israel's jurisdiction over East Jerusalem isn't recognized by international law, and Israeli entry into the al-Aqsa mosque is forbidden by the status quo agreement, it has repeatedly sought to prohibit overnight Muslim prayers there.
There is no explicit agreement restricting overnight worship at the mosque, but an Israeli police spokesperson Dean Elsdunne on Saturday told CNN that "Muslims are not allowed to be in the compound during night hours."
Zonszein said Israel claims there are "understandings (with the Jordanian custodians) on not staying overnight," adding that they haven't been made public and that Palestinians are unlikely to have agreed to them.
It is customary for Muslims to perform overnight prayers at mosques during Ramadan, in a ritual known as "itikaf."
"Over the years it (itikaf) became yet another tool in conflict," Zonszein said. "Israel started to restrict it when it found it to be a way for Palestinians to provoke friction with Jewish Israelis."
While it is customary to mainly do so in the last ten days of Ramadan, itikaf can be practiced at any time of the year and is not restricted to the holy month, said Sheikh Ikrima Sabri, Imam of al-Aqsa mosque and former Grand Mufti of Jerusalem.
Israeli media has reported police will prohibit non-Muslims to access the compound during the last 10 days of Ramadan, in line with previous years.
Following Wednesday's violence, the Waqf – the Jordan-appointed body that manages Jerusalem's Muslim holy sites – said that al-Aqsa mosque "did not and will not close its doors" to those performing itikaf prayers throughout Ramadan, at night or during the day. Sabri said that prayer timings are solely the prerogative of the Muslims authorities at the site.
The UN's Francesca Albanese said that as per to the status quo agreement, the Jerusalem Islamic Waqf, under Jordanian custodianship "is the only recognized authority responsible for managing the site."
Israel's strikes on both Gaza and Lebanon are thus far seen to be relatively restrained compared to its response in 2021 and previous years, which saw much more aggressive rocket salvos targeting Jerusalem.
While security threats have traditionally unified Israelis and masked domestic divisions, some say too great an escalation could trigger the opposite effect for the Israeli government.
"The public is always supportive when these things begin, there is always a rallying around the flag phenomenon," said Chuck Freilich, a former deputy national security advisor in Israel and senior fellow at Institute for National Security Studies (INSS) in Israel, adding that while limited tension may divert attention away from the controversy over the judicial overhaul, any further escalation risks damaging Netanyahu's image, especially as it is taking place over the Passover holidays.
Netanyahu's response comes not only amid domestic upheaval, but also amid strained relations with the United States and Gulf allies, he said, adding that Netanyahu has generally been known to be cautious in his use of military force.
"The hope is that (the government) can de-escalate it, but I am not sure they will succeed," he said, adding that it may be in the interest of Hamas and Lebanon's Hezbollah — both backed by Israel's longtime foe Iran — to "take advantage of Israel's disarray."
"There is a potential for this to escalate further at a time when Israel is deeply divided domestically," he said.
Additional reporting from Abeer Salman and Amir Tal in Jerusalem, Lauren Izso in Tel Aviv and Ibrahim Dahman in Gaza