Valery Gergiev: Russian conductor makes a comeback in China after he was fired for refusing to condemn the war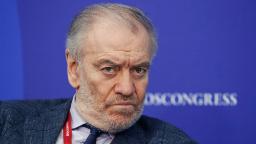 Hong Kong
CNN
 — 

Valery Gergiev, the star Russian conductor fired in Germany last year for his refusal to condemn the invasion of Ukraine, was given a warm welcome in China this week as he started a three-day performance at the country's top art center.
"It is like coming home," Gergiev said at a news conference Monday night, according to state-run tabloid Global Times, before his first performance at the National Center for the Performing Arts in Beijing.
His show with Russia's Mariinsky Orchestra marks the first time an overseas group has performed in China since the country resumed accepting foreign artists this month, according to Chinese state media.
Gergiev, who has close ties with Russian President Vladimir Putin, was dismissed as the chief conductor of the Munich Philharmonic last March, shortly after Russia's invasion began.
In a statement at the time, Munich Mayor Dieter Reiter said he had asked Gergiev to "clearly and unambiguously" distance himself from the war. "That's not what he did," he said.
At Gergiev's performance Monday, Chinese audiences noticed heightened security, with staff checking "books and paper, especially those with notes or that could be written on," said one audience member, who asked not to be named.
"Previously, they would sometimes check your food and drinks, or things like lighters," they said. "But I don't remember they had this special attention on paper like this time."
Others who attended the show said security personnel went through their books and notebooks "page by page."
The show was given glowing coverage in Chinese state media, with the Global Times highlighting the close partnership between Russia and China and referring to Gergiev by his Chinese nickname "Brother-in-law."
It also defended Gergiev from his critics, claiming that Russian music and art had been "targeted by the West."
It wasn't just the Munich orchestra that dropped Gergiev after the invasion – New York's Carnegie Hall also announced last year that it had canceled performances by the Russian conductor.
Meanwhile, New York's Metropolitan Opera said it would not work with Russian artists and organizations who support Putin until the invasion of Ukraine ends.
US public broadcaster NPR reported in 2014 that Gergiev's friendship with Putin spans decades. Gergiev has also supported Putin's policies that restrict the rights of LGBTQ citizens, which led to protests against the conductor at arts venues in previous years.
In 2014, Gergiev signed an open letter with a group of Russian cultural figures stating their support for Putin's annexation of Crimea, prompting more protests against him in New York.
The show in Beijing this week comes after Chinese leader Xi Jinping visited Putin in Moscow earlier this month, with the two leaders releasing a joint statement vowing to deepen their countries' cooperation and friendship.
China remains a lone voice supporting an increasingly isolated Putin; throughout the war, Beijing has backed Kremlin rhetoric blaming NATO for the conflict, refused to condemn the invasion, and increased economic support for Moscow by upping purchases of Russian fuel.