Turkey cancels visit by Swedish defense minister after protest permit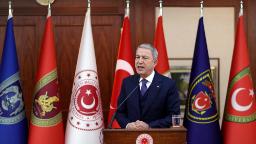 Reuters
 — 

Turkish Defense Minister Hulusi Akar said on Saturday that a planned visit by his Swedish counterpart to Ankara has been canceled after Swedish authorities granted permission for protests in Stockholm.
"At this point, the visit of Swedish Defense Minister Pal Jonson to Turkey on January 27 has become meaningless. So we canceled the visit," Akar said.
Swedish Defense Minister Jonson had planned to travel next week to Ankara at the invitation of his Turkish counterpart as the Nordic country hopes to nudge Turkey to ratify its bid to join NATO.
Akar said he discussed the lack of measures for protests in Sweden against Turkey with President Tayyip Erdogan and conveyed his reaction to his Swedish counterpart on the sidelines of a meeting of Ukraine Defense Contact Group.
"It is unacceptable not to make a move or react to these (protests). The necessary things needed to be done, measures should have been taken," Akar said according to a statement by Turkish defense ministry.
On Friday, Turkey summoned the Swedish ambassador over authorities' permission for a protest, in which the Muslim holy book the Quran will be burned, near the Turkish Embassy in Stockholm scheduled to be held on Saturday.