Thailand election: Election Commission sets May 14 poll date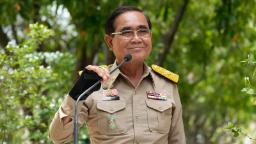 Thailand will hold elections on May 14, the national poll body said on Tuesday, a day after parliament was dissolved.
The announcement came as parties step up campaigning for a nationwide contest for the support of about 52 million eligible voters.
The race is shaping up to be a battle between a pro-military conservative grouping, led by the incumbent Prime Minister Prayut Chan-o-cha, against the largest opposition Pheu Thai party, headed by the billionaire Shinawatra family.
Early voting will take place on May 7, while candidate registration, including for party nominees for prime minister, will take place in early April, said Election Commission Secretary-General Sawaeng Boonmee at a news conference.
The commission will endorse at least 95% of votes within 60 days after the poll, he said.
"We would like everyone to respect the rules … for smooth elections," he said.
The May election will choose members of parliament, which together with an appointed Senate will choose a prime minister by the end of July, according to a timeline provided by the government.
Political rallies have already been underway for months, but parties are now ratcheting up efforts.
Pheu Thai is expected to hold events daily across Thailand featuring the youngest daughter of former leader Thaksin Shinawatra, Paetongtarn, who has topped opinion polls as a potential candidate for prime minister.
With populist policies aimed at Thailand's working classes, parties controlled by the Shinawatras have won every election since 2001, including twice in landslides, but three of its governments were removed in military coups or by court rulings.
Paetongtarn on Friday said she was confident of winning by a landslide, with the aim of averting any political maneuvering against her party.
Prayut, who is running for re-election with the United Thai Nation Party, told reporters on Tuesday that his cabinet was still governing the country.