Russia strikes Ukraine's cities hours after Western countries pledge tanks to Kyiv


CNN
 — 

Ukraine has urged the West to get military hardware into the hands of its troops as quickly as possible, as Russia fired missiles toward Kyiv and other Ukrainian cities just hours after Germany and the US announced their plans to provide modern tanks to the country.
Russia launched 55 missiles at Ukraine on Thursday morning, Ukrainian Prime Minister Denys Shmyhal said on Telegram. Shmyhal said the salvo was aimed at the country's "energy facilities" and some power substations had been hit.
"The main targets were energy facilities to deprive Ukrainians of power and warmth," Shmyhal said on Telegram. "The majority of missiles and drones were intercepted by our defenders. Unfortunately there were hits at substations. Nevertheless the situation in the power grid remains under control. Power engineers are doing everything to provide power supply."
One person died in the capital Kyiv, and an air raid alert was in place across the whole country, according to the city's mayor. The person who died was identified as a 55-year-old man, who was killed "due to the fall of missile fragments," he head of the Kyiv city military administration, Serhiy Popko, added.
The fresh assault comes amid Russian rage at the West's decision to provide Ukraine with high-tech tanks. Germany finally approved the transport of Leopard 2 tanks on Wednesday, joining the US in sending a batch of vehicles after weeks of geopolitical negotiations.
But a race to get those tanks onto the battlefield has now begun, and Thursday's attack indicates Moscow will aim to damage Ukrainian resolve in the intervening period.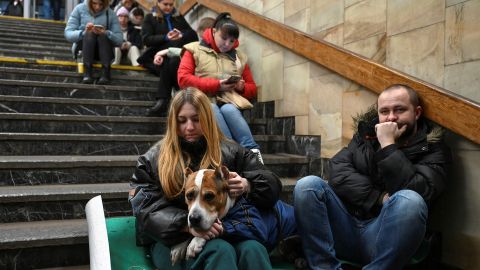 "The key thing now is speed and volume," Ukrainian President Volodymyr Zelensky said Wednesday in his nightly video address. "The speed of training of our military, the speed of supplying tanks to Ukraine. The volume of tank support."
Germany is planning to deliver its 14 pledged Leopard 2 tanks to Ukraine by the end of March "at the latest," German Defense Minister Boris Pistorius announced Thursday. That will follow a period of training for Ukrainian soldiers.
"This is not too late," Pistorius said.
The arrival of 31 American Abrams tanks is expected to take far longer, given the complexity of the systems and the logistics of getting a battalion across the Atlantic Ocean and into eastern Ukraine. In the meantime, the US will begin a "comprehensive training program" for the Ukrainians, which will require significant maintenance once they are deployed, according to the White House.
Kyiv will hope that Germany's Leopards are incorporated into their operations before an anticipated Russian offensive in the spring begins.
Alongside Russia's Thursday attack on Ukraine came another round of anger from the Kremlin over the supply of tanks. President Vladimir Putin's spokesman Dmitry Peskov said Thursday that Moscow sees the delivery of modern Western battle tanks to Ukraine as "direct involvement" in the conflict between Ukraine and Russia.
But NATO nations dismissed Russia's ire, and shown a willingness to open up a possible new stage of the war with weapons that will allow Ukraine to take the fighting to Moscow's forces, rather than focus on repelling Russian attacks.
Kyiv is also continuing to press for more Western stocks, including improved missile systems and modern fighter jets. "We have to unlock the supply of long-range missiles to Ukraine, it is important for us to expand our cooperation in artillery, we have to achieve the supply of aircraft to Ukraine," Zelensky said, adding he had spoken with NATO chief Jens Stoltenberg about the desire.
Zelensky referred to the request as "a dream," but also "an important task for all of us," indicating another lengthy period of international dialogue in which Ukraine will look to warm up the West to the entire of stepping up its military aid again.
The country's defense minister meanwhile told CNN on Wednesday that Ukraine's "wish list" for Western-supplied weapons includes fighter jets.
"I sent a wish list card to Santa Claus last year, and fighter jets also [were] including in this wish list," Oleksii Reznikov told Christiane Amanpour.
But he said that his government's first priority was air defense systems, to prevent Russia from carrying out air and missile strikes. "We have to close our sky, to defend our sky," he said. "That's priority number one. After that, we need to get more armed vehicles, tanks, artillery systems, UAVs, etc. etc. We have people, but we need weaponry."
On the ground, Russian forces were "intensifying their pressure" on the eastern city of Bakhmut, Ukraine's deputy defense minister said on Wednesday.
"The intensity of the battles is increasing," Hanna Maliar said on Telegram. "The enemy is intensifying their pressure at the Bakhmut and Vuhledar directions. Heavy fighting continues." That account tallies with two Ukrainian soldiers in Bakhmut, who said Wednesday that Russian forces were attempting to advance north and south of the city, with one telling CNN that the situation was "very alarming."