Pope Francis arrives in Juba, South Sudan in historic trip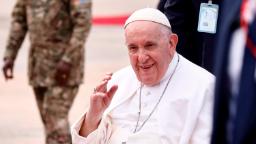 Juba, South Sudan
CNN
 — 

Pope Francis arrived in Juba, South Sudan on Friday fulfilling a long-time wish to visit the war-ravaged country, currently in the midst of a major humanitarian emergency.
In a first, the Pope is undertaking the trip together with the head of the Anglican Communion, Archbishop Justin Welby, and the Moderator of the General Assembly of the Church of Scotland, Rt. Rev. Iain Greenshields, representing the three Christian churches that make up the majority of the population in South Sudan.
"South Sudan, wrecked by years of war, longs for an end to the constant violence that forces many people to be displaced and live in conditions of great hardship," the Pope said before leaving Rome for Africa on Tuesday.
South Sudan is experiencing the third largest refugee crisis in the world, according to the UN Refugee Agency. Some four million refugees have fled the country or are internally displaced in South Sudan, over half of whom are children.
South Sudan gained independence from Muslim-majority Sudan in 2011 after decades of conflict only to plunge into civil war two years later when fighting erupted between those loyal to President Salva Kir and those allied with Vice-President Riek Machar, who is from a different ethnic group.
In April 2019, the Pope held a spiritual retreat at the Vatican for political and religious leaders in South Sudan, and in an unprecedented gesture he knelt down and kissed the feet of President Kir and Vice-President Machar.