Live updates: Russia's war in Ukraine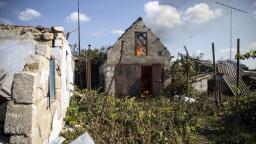 Russia's foreign minister Sergey Lavrov has cast doubt on the future of a UN-backed grain deal, saying there is a "lot of work" to do before the agreement can be renewed next month.
The agreement has allowed Ukraine — one of the world's largest wheat producers — to export grain from its Black Sea ports since the beginning of August.
Lavrov said Moscow wanted the UN to provide evidence that the exports, which must pass through a monitoring center in Istanbul, are being directed to the world's poorest countries. Speaking during a joint news conference with the secretary general of the Organization of Islamic Cooperation (OIC) in Moscow on Monday, he said he had asked the UN for data on the final destinations of the grain.
Lavrov said Russia understands that poorest nations receive only 5% to 7% of the exported grain, while the rest goes to the European Union.
"European countries give the following explanation: they say, yes, we receive most of the Ukrainian grain, but then this grain is distributed around the world, including to the poorest countries. I would like to have a clearer picture, so we asked the UN secretariat who is engaged in this operation, and who has all the data, to provide statistics on the movement of grain to the final destination," Lavrov said.
The data requested from the UN will inform Russia's decision on whether to remain in the grain deal, he added.
Lavrov also complained that the second part of the agreement, which deals with the supply of Russian food and fertilizers to the world market, "is practically not implemented."
Lavrov argued there was a need for clear legal exemptions from sanctions for Russian companies, and guarantees for the free entry of Russian ships into European ports and foreign ships into Russian ones. He said one of the key problems is the sanctions imposed against the Russian Agricultural Bank, the main financial institution servicing the supply of fertilizers and grain to world markets.
"There is a lot of work. The deal expires in November. And we proceed from the fact that before the issue of its extension is considered, all the issues mentioned will be resolved in a satisfactory way," Lavrov said.