Live updates: Russia's war in Ukraine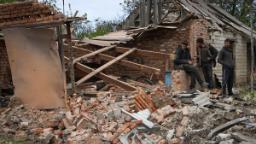 In this vacant and damaged village, news of Russia's evacuation of occupied towns along the southern front cannot come soon enough.
Ukrainian-held Mala Tokmachka, just over a mile (2 kilometers) from Russian-held territory in the Zaporizhzhia region, has been left ghostly and battered by shelling, leaving the central square pockmarked, and the school's facade torn off. Shrapnel is mixed in with fallen pine cones.
Raisa, a local woman passing some Ukrainian soldiers on her bicycle, said the explosions had picked up recently and she had heard small arms fire from the nearby highway. "There is no way out for us," she said, of the remaining 200 civilians. "We have no water, gas or power for more than a year."
Just 9 miles (15 kilometers) down the road is Polohy, a town that Russian occupiers said Friday they would evacuate, a process which local sources said had got underway at the weekend, although some Russian soldiers apparently remain in place.
The town is a focus for Ukraine's spring counteroffensive. While Kyiv has said it will not announce its commencement so as to cause maximum surprise, recent statements from Russian officials in occupied areas about attacks have indicated at least its opening stages are likely underway.
Polohy is one of over a dozen frontline settlements that occupying forces announced Friday would be emptied of civilians. A Russian occupation official, Yuri Balitsky, said "we cannot risk the safety of people and will provide funds for organized travel, lump sum payments, accommodation and meals." He added children would undergo rehabilitation and rest in children's camps," echoing the language of previous incidents that Ukraine has dubbed forced deportation and on which the International Criminal Court based a war crimes indictment against Russian President Vladimir Putin.
Read the full story here.