Live updates: Russia's war in Ukraine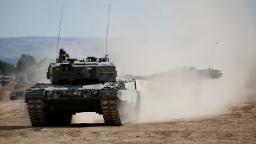 Six Leopard 2 tanks left Spain and are set to reach Ukraine in less than a week, Spanish Minister of Defense Margarita Robles said this weekend. The United States, meanwhile, will start training Ukrainian forces on its Abrams tanks next month, seeking to get them on the battlefield against Russia before the end of the summer.
But even with shipments and training underway, the fighting vehicles donated by NATO allies to Ukraine will not have an immediate impact on its war with Russia, experts warn.
Steep learning curve: Modern main battle tanks are complicated pieces of weaponry. Looking formidable and rugged on the outside, much of their effectiveness on the battlefield comes down to sophisticated electronic and computer systems at their core. Those systems find targets and train the tank's main gun on them.
Maintaining the tanks, repairing them and supplying the parts necessary requires detailed training all the way from the crews in the vehicles to the logistics trail supporting them, hundreds or maybe thousands of miles from the front lines in eastern Ukraine.
"I would say the ability to train Ukrainian soldiers to support any tanks they are given is almost more important than the type of tank they use," said Nicholas Drummond, a defense industry analyst specializing in land warfare and a former British Army officer.
Logistical challenges: In addition to the time needed to train fighters, the tanks need to be maintained, officials said, which means managing the supply chain.
Because the Abrams is American-made, for example, it has "a very long logistics tail stretching back to the US," said Drew Thompson, visiting senior research fellow at the Lee Kuan Yew School of Public Policy at the National University of Singapore.
Key components that wear out or are damaged in battle will need to be replaced with US parts, which would have to be sent to a repair depot in Ukraine or possibly Poland, which is in the process of acquiring its own fleet of Abrams.
Thompson said the Pentagon is good at solving difficult logistical issues, "but the risk is high to both the US and Ukraine."
"Being able to support Leopards from a European logistics base is definitely preferable," Thompson said, referring to the model of tanks employed in 13 European countries.
The sheer number of Leopards available makes the support process easier, according to Drummond, who is an adviser to the manufacturer of the German tanks. More than 4,000 of the tanks are in service, and that means "spare parts are readily available from multiple sources," he said.
CNN's Al Goodman, Duarte Mendonca, Haley Britzky and Heather Chen contributed reporting to this post.