Live updates: Russia's war in Ukraine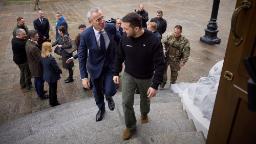 A Russian fighter jet was forced to make "an emergency drop of aviation munition" over a Russian city Thursday, causing a large explosion in a central neighborhood, according to a state news agency and local officials.
A Russian Air Force Su-34 jet was flying over the border city of Belgorod, just north of Ukraine, when it was forced to drop the explosives for reasons that are still under investigation, according to Russian news agency RIA Novosti, which cited the Russian defense ministry.
Officials have not immediately reported any casualties, Belgorod Gov. Vyacheslav Gladkov said in a Telegram post.
The explosion rocked an intersection in the city's center and left a "huge impact crater" that was 20 meters (about 65 feet) wide, Gladkov said.
"Windows in a nearby apartment building were damaged, as well as several parked cars. Electricity poles were downed," he added. 
An overturned car landed on the roof of a store near a residential high-rise building, according to RIA Novosti. Emergency teams are at the scene, the outlet said.
Belgorod is located about 40 kilometers (roughly 25 miles) north of the border with Ukraine.