Live updates: Russia's war in Ukraine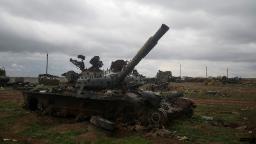 A 16-year-old Ukrainian was forcibly sent to Russia "for vacation" and was placed with a family who attempted to indoctrinate him with pro-Russian propaganda, a representative for the teen told the US House of Representatives' Foreign Affairs Committee.
Last month, the International Criminal Court has issued an arrest warrant for Russian President Vladimir Putin and another top Russian official, Maria Lvova-Belova, for an alleged scheme to deport Ukrainian children to Russia.
At Wednesday's hearing, the representative told lawmakers that 16-year-old Roman, who is an orphan, left his school after the Russian invasion of Ukraine and walked 60 kilometers (about 37 miles), all while allegedly being threatened by Russian soldiers along the way. After he reached his destination — a village in Donetsk — Russians occupied that village as well, and Roman was put in a local hospital with other children, the representative said.
"At that hospital, he was notified that he will now have a different family," his representative said via a translator. "The occupation authorities ignored the fact and his words that he wanted his brother or sister to be his legal representatives because he had them there."
The representative said he was then sent to another hospital in Donetsk, issued a new birth certificate on behalf of the self-declared Donetsk People's Republic, and then was sent to Russia "for a vacation." Once there, Roman and other Ukrainian children were visited by Lvova-Belova, who told them they would be adopted, which the children protested. They were instead sent to a boarding school, the representative said.
"Eventually, they found a new family for Roman," the representative said. "They tried to reshape his mind… They made him watch propaganda programs on TV."
His communication with his peers was restricted, his movements were tracked through his cell phone, and they "forced him to say that he liked his new family and his new life," she said. 
"He was forced to obtain a passport of the Russian Federation, but then immediately they took it away from him, saying that they will process papers for adoption," she said.
Roman was able to make his way back to Ukraine with the help of volunteers from the country, the representative said.
More background: Ukrainian President Volodymyr Zelensky has said there have been 16,000 forced deportations of Ukrainian children, but that number could be higher.
The Russian government doesn't deny taking Ukrainian children and has made their adoption by Russian families a centerpiece of propaganda. According to Lvova-Belova's office, Ukrainian children have been sent to live in institutions and with foster families in 19 different Russian regions.