Japanese policeman dies in suspected suicide at Prime Minister's residence in Tokyo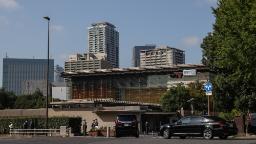 Tokyo
CNN
 — 

A police officer was found dead in the grounds of the Japanese Prime Minister's official residence early Friday morning, according to Tokyo Metropolitan Police, who are investigating the incident as a possible suicide.
Prime Minister Fumio Kishida was not at the residence when a fellow police officer found the 25-year-old man in the West Gate guard station around 4:40 a.m., local time.
The deceased officer had been on guard duty at the residence when the incident occurred, according to police.
Japanese authorities have been on high alert after a recent attack on Kishida.
Last month, a man threw a suspected smoke bomb at the prime minister during a campaign speech. Kishida was not hurt in the incident but the ability of the suspect to get so close to him with what appeared to be a home made weapon alarmed observers.
It came less than a year after the assassination of former Prime Minister Shinzo Abe, who was shot dead last July during a campaign speech in the western city of Nara.