Germany Leopard 2 tanks: Government announces delivery of tanks to Ukraine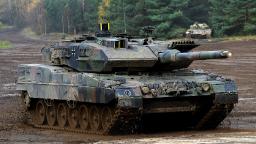 CNN
 — 

The German government will send Leopard 2 tanks to Ukraine, it announced on Wednesday, following weeks of diplomatic pressure to make the move.
The decision to send the tanks is a landmark moment in the West's support for Kyiv that follows days of intense pressure on Berlin from some of its NATO partners.
Chancellor Olaf Scholz told his Cabinet of his decision that Germany will further strengthen its military support for Ukraine, German government spokesperson Steffen Hebestreit said. "The Federal Government has decided to make Leopard 2 battle tanks available to the Ukrainian armed forces," he said.
"This is the result of intensive consultations that took place with Germany's closest European and international partners. This decision follows our well-known line of supporting Ukraine to the Ukraine to the best of our ability."
The goal is to assemble two tank battalions with Leopard 2 tanks for Ukraine. In a first step, Germany will provide a company of 14 Leopard 2 A6 tanks from Bundeswehr stocks, the government announced, with the training of the Ukrainian crews to begin quickly in Germany. In addition to training, the package will also include logistics, ammunition and maintenance of the systems.
Germany will also allow other countries to export the battle tank, it said Wednesday. Poland on Tuesday formally asked for approval from Germany to transfer some of its German-made Leopard 2 tanks to Ukraine.
Several European countries also own some Leopards, and Poland had led an effort to re-export those to Ukraine even if Germany was not on board.
Berlin's announcement comes shortly after United States officials revealed on Tuesday that the Biden administration is finalizing plans to send US-made tanks to Ukraine. Germany had indicated to the US last week that it would not send its Leopard tanks unless the US also agreed to send its own M1 Abrams tanks.
Sending Leopard 2 tanks to Ukraine will provide Kyiv's forces with a modern and powerful military vehicle ahead of a potential Russian spring offensive. It will also come as a blow to the Kremlin, which has seen a growing campaign to equip Ukrainian troops with high-tech fighting systems as Russia's ground war nears the one-year mark.
Germany had initially resisted a growing drumbeat of Western pressure to ship some of the tanks to Ukraine, with new German Defense Minister Boris Pistorius repeatedly calling for more time and insisting that the move would come with pros and cons for Berlin.