China, Philippines to revive talks over oil exploration in South China Sea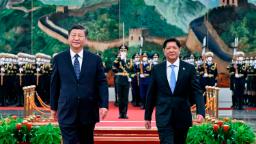 Hong Kong
CNN
 — 

Chinese leader Xi Jinping and his Philippine counterpart Ferdinand Marcos Jr. have agreed to strengthen economic ties and resume talks on oil exploration, as they look to revive their economies amid the pandemic downturn and friction over contested areas of the South China Sea.
Xi met with Marcos Jr. on Wednesday during the Philippine President's first state visit to Beijing, where the two leaders agreed to "continue to properly handle maritime issues through friendly consultation," according to a readout from China's Ministry of Foreign Affairs.
The readout added that both sides would "resume negotiations on oil and gas exploration, promote cooperation on oil and gas exploration in non-disputed areas."
Marcos Jr. had previously said his country would pursue oil and gas exploration in the South China Sea even without a deal with China, after exploration talks were formally terminated in June 2022 due to constitutional challenges and issues of sovereignty. China claims almost all of the 1.3 million square mile South China Sea as its own, though other territories, including the Philippines, have competing – and sometimes overlapping – claims on certain areas.
The South China Sea has long been a source of tension between Manila and Beijing, and relations were further strained in December when the Philippines Department of National Defense expressed "great concern" about the presence of Chinese vessels in the contested waterway.
The Philippines has repeatedly accused the Chinese vessels of harassing Filipino fishers in the region, and in a statement released Wednesday, Marcos Jr. says he raised the issue with Xi during their meeting in Beijing.
In the statement, Marcos Jr. said Xi promised to "find a solution" that would allow Philippine fishermen to operate in the Southeast Asian country's natural fishing grounds.
"We also discussed what we can do to move forward, to avoid any possible mistakes, misunderstandings that could trigger a bigger problem than what we already have," he added.
To that end, the countries announced plans to set up a direct line of communication between their maritime departments.
In the Philippines' statement, Marcos Jr. said that Xi vowed to extend assistance to the Philippines including agriculture, infrastructure and maritime security, with both sides inking a total of 14 bilateral agreements.
Xi also promised wide-ranging cooperation opportunities with the Philippines, including support for Chinese investment to the Philippines, and helping its neighbor to develop agricultural technology, basic education, meteorology and space, and vaccine research, China's Foreign Ministry said.
The Philippines has long been balancing America's strategic interest in the Pacific alongside China's geopolitical and economic rise.
While the Philippines is a longstanding defense ally of the United States, previous leader Rodrigo Duterte sought closer relations with China during his six years in power, setting aside its territorial spat in exchange for Chinese investments.
Marcos Jr.'s Beijing trip comes after US Vice President Kamala Harris visited the Philippines in November, where she reaffirmed Washington's "unwavering" commitment to its ally.
During that visit, Harris and Marcos Jr. discussed 21 new projects funded by the United States, including more defense sites around the Philippines.