Bull sharks maul dolphin: Two Sydney beaches close, Ironman event abandoned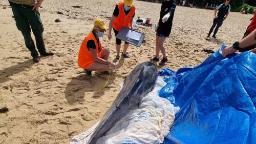 CNN
 — 

Two popular Sydney beaches were closed Saturday after swimmers witnessed several bull sharks attacking a dolphin, according to Surf Life Saving New South Wales.
The closures led to the canceling of several surfing and Ironman and Ironwoman events.
The dolphin suffered injuries to its tail and was later euthanized, the organization said.
Lifesavers closed Manly and Shelly beaches where hundreds of people had gathered for the Manly Open Classic – a community event including Ironman competitions that were supposed to be held on Saturday.
"Surf lifesavers and lifeguards cleared swimmers from the water and a large surf carnival has been suspended," the organization wrote in a statement.
Drones operated by Surf Life Saving spotted a number of sharks in the area, it said.
Emily Pettersson told CNN affiliate Channel Nine that she went into the water when she heard the dolphin had been hurt.
"[The dolphin's] fin was mangled, you could see it was falling off and it had a bite mark on the side of the body as well," Pettersson said, adding that she wasn't afraid to be in the water herself.
Summer of Surf General Manager Trent Goulding confirmed the cancelation of the Shaw and Partners Manly Surf Open in an Instagram video and offered an apology to the participants who had turned up early at Manly Beach.
"We've had a huge shark activity in a nearby area … and we've have to put our whole event on pause… we've been in a holding pattern but unfortunately, we will be canceling the event today," he said.
Goulding added that organizers will refund the entries, and vowed to implement extra protocols to mitigate these sorts of risks, such as having a backup location in future events.