Brno: Eight people die after fire breaks out in Czech city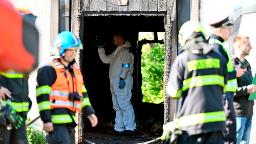 CNN
 — 

Eight people have died in the city of Brno, the Czech Republic, after a large fire broke out early on Thursday in an area frequented by homeless people, Czech police said.
A spokesperson said the fire started overnight at a site of 12 interconnected mobile cabins near a residential complex in Brno, the second largest Czech city.
The cabins were used as a dormitory for construction workers in the past, but have been abandoned for some time.
The spokesperson added police believe the eight victims were likely homeless people sheltering in the cabins.
The Fire Rescue Service of the South Moravian Region said in a statement that the fire has been extinguished as of Thursday morning. It said that an investigation into the cause of the blaze continues.
"The fire has tragic consequences, we found eight victims inside," the fire service said in the statement.