Billy Nolen, acting FAA head, to depart agency this summer, leaving key vacancy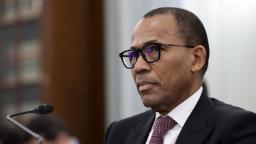 CNN
 — 

The acting head of the Federal Aviation Administration told staffers he will step down this summer, further expanding the leadership vacuum at the agency.
Acting Administrator Billy Nolen wrote in a memo that it is "time for a new captain to guide the FAA."
"I told Sec. Buttigieg and notified the White House that I will depart as a new nominee is named this summer," Nolen wrote. "I have given everything to this agency, and now it's time to do the same for my family, who have sacrificed so much and supported me during my time at the FAA."
The Biden administration's first nominee, Phil Washington, failed to muster sufficient support in the Senate. That left Nolen, previously the agency's safety chief, running the FAA since the Trump-appointed head stepped down in March 2022 halfway through his five-year term.
Transportation Secretary Pete Buttigieg said in a statement that Nolen "has kept safety as the FAA's north star through one of the most complex periods in modern aviation." That period has included a series of close calls at airport runways that prompted Nolen to call a rare public safety summit earlier this year and a meltdown of the agency's NOTAM system that caused a nationwide ground stop.
Nolen wrote in his memo that FAA officials "have not been afraid to act to preserve the safest era in aviation history but to also say that our current record is not good enough."
"We should build a system so safe it doesn't require heroic intervention," he wrote.
The Biden administration has not yet signaled its next nominee to lead the agency.