Amsterdam asks 'wild' young male British tourists to 'stay away'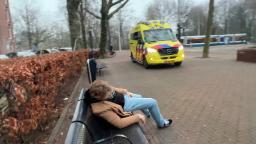 CNN
 — 

Amsterdam is asking young British men to "stay away" if they plan to visit the city to cut loose and "go wild".
The Netherlands' capital's new online campaign to tackle nuisance tourism launched this week and targets visitors between the ages of 18 and 35, the city's local authority announced in a news release on Tuesday.
If British tourists search online for terms such as "stag party Amsterdam," "cheap hotel Amsterdam" or "pub crawl Amsterdam," a video advertisement will appear, warning them of the consequences of drinking too much, taking drugs or causing trouble through antisocial behavior.
One video shows a drunk young man being arrested. The accompanying text says: "Coming to Amsterdam for a messy night + getting trashed = €140 fine + criminal record = fewer prospects." It adds: "So coming to Amsterdam for a messy night? Stay away."
Another video shows an unconscious person being rushed to the hospital in an ambulance, with text that reads: "Coming to Amsterdam to take drugs + lose control = hospital trip + permanent health damage = worried family." It continues: "So coming for drugs to Amsterdam? Stay away."
"Visitors will remain welcome, but not if they misbehave and cause nuisance. In that case we as a city will say: rather not, stay away," deputy mayor Sofyan Mbarki said in the release.
"Amsterdam is already taking lots of measures against excessive tourism and nuisance, and we are taking more measures than other large cities in Europe. But we have to do even more (in) the coming years if we want to give tourism a sustainable place in our city," he continued, adding that to keep the city liveable they have to choose "restriction instead of irresponsible growth."
The "Stay Away" campaign may expand later in the year to include visitors from the Netherlands and other EU countries who have the potential to cause nuisance, according to the local authority.
Amsterdam will also launch a "How to Amsterdam" campaign this month, aimed at visitors already in the city. Through social media and street signs, tourists will be warned about drunkenness, causing too much noise, buying drugs from street dealers and the ban on urinating in public.
The city council is also in talks with bachelor party providers to work out how they can reduce nuisance tourism in the city center, and is awaiting research results on the possibility of applying a tourist tax.
Last month, Amsterdam announced a ban on the use of marijuana on the street and several restrictions on alcohol use in its red light district, where about 10% to 15% of the city's tourist industry is based.
This year, the city is expected to receive more than 18 million overnight visitors – the number at which the city council is "obliged to intervene," under a 2021 ordinance called "Amsterdam Tourism in Balance."